Shooter misses chance at medal after teammate oversleeps
Official News Agency
2014-08-21-15:21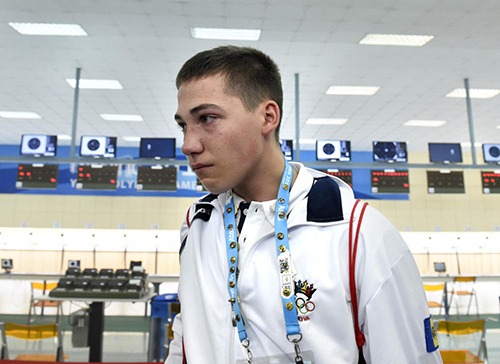 Moldovan shooter Ion ARIC in tears after teammate Polina KONARIEVA (UKR) overslept and arrived too late for competition. Photo by Yue Yuewei
NANJING, 21 Aug. - A Ukranian shooter has cost her teammate his chance at a medal by oversleeping and missing a critical round of the 10m air pistol international mixed team medals at the Fangshan shooting hall on Thursday.
Ion ARIC (MDA) and Polina KONARIEVA (UKR) were in the chase for a medal, but their chances were scotched by KONARIEVA's delayed arrival after waking up late.
The pair had beaten Margarita LOMOVA (RUS) and Juan Sebas RIVERA RUIZ (COL), 10-9, on Wednesday, to make the quarterfinal and the duo looked good to challenge Zaven IGITYAN (ARM) and CHUNG Ting-Yu (TPE) for a place in the semifinal.
But KONARIEVA's absence left the result null and void. The message 'DNS' (Did Not Shoot) appeared near the duo's score and gave their opponents free-passage into the semifinal.

KONARIEVA reached the venue but competition had already begun. She was present at the shooting hall when the medals were awarded later in the day.

"I don't know what to say to him," she said, referring to ARIC.

Her coach, Alexander KAMINSKYY (UKR), explained why she didn't reach the venue on time for the start of the competition.

"She was sleeping and woke up at 8 o'clock and went to the station to get a taxi. The driver didn't know the road but he said, 'Ok, I know, shooting range ... no problem'," he said.
"I think it is my mistake," KAMINSKYY added.

ARIC, who was clearly upset during the quarterfinals, was inconsolable as he left the venue before the finals.

"Yes, there was a lot of emotion ... I did not know how to feel. Why she was late, I don't know why … she is not responsible for her action. I'm a little angry," he said
Jorg BROKAMP (GER), the ISSF Technical Delegate present blamed carelessness for the error.

"It's not the fault of the shooter but the fault of the team manager and coach. That's the first duty that a coach and manager you have to prepare your athletes schedule and get all necessary information," BROKAMP said.

NYOGOC News cl/xyw/dk
Videos